Manor House Apt.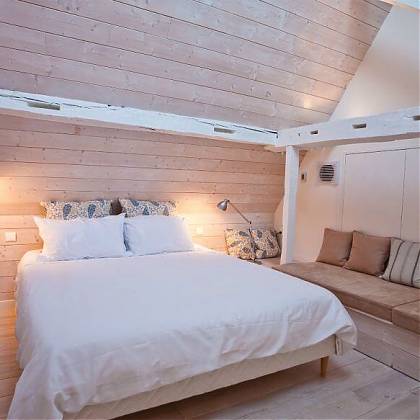 Click on thumbnails to enlarge:
Keyboard navigation: [Left] & [right] arrows, [Esc] to close.
---
Rates

Single:

N/A

Sharing Participant:

1495 € per person per week + tuition fee

Sharing Non Participant:

1495 € per week full board

Triple:

1195 € per person per week + tuition fee
---
The Manor House Apart­ment – 1 Dou­ble Be­d­room, 1 Twin / Sleeps 4 at Clos Mirabel
An apart­ment with its own pri­vate en­trance, over three lev­els, full of light and charm, a cosy space ex­tend­ing un­der the eaves.
For your com­fort you will find:
Ful­ly equipped kitchen with din­ing area
Dish­wash­er
Wash­ing ma­chine and dry­ing fa­cil­i­ties avai­l­able
Liv­ing room
Dou­ble be­d­room, 160 cm bed
Mez­za­nine be­d­room, 2 sin­gle 90 cm beds
Bath­room, 2 WC
In­ter­net WIFI, TV
Air con­di­tion­ing
Gar­den fur­ni­ture
Ac­cess to the Pool and its ter­race
Parking
Buf­fet break­fast of lo­cal and re­gio­n­al pro­duce
This apart­ment is not suit­able for guests with mo­bil­i­ty is­sues or for fam­i­lies with small chil­dren due to spi­ral stair­case and 3 lev­els.
This accommodation is available as part of a Masterclass or a Painting Holiday Package at Clos Mirabel in South West France.