Where to find us?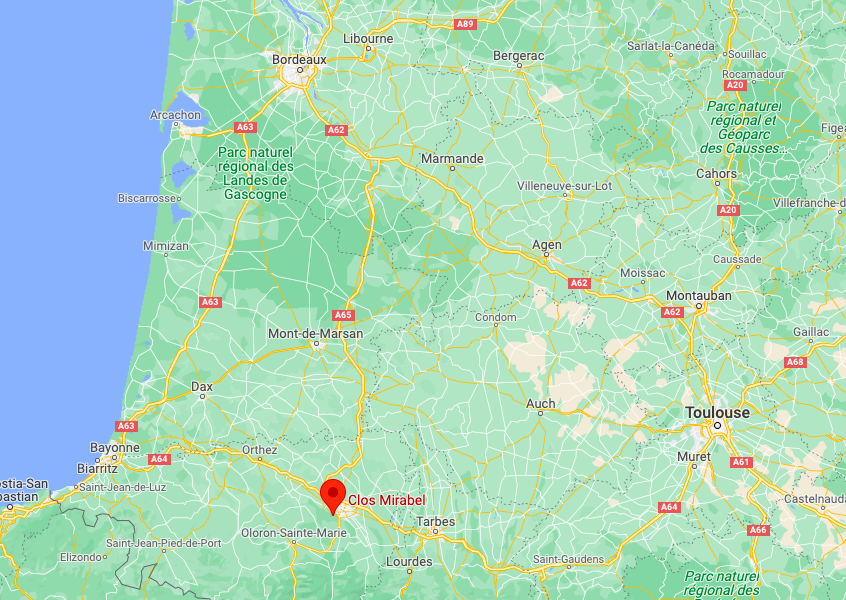 We are pleased to inform you that Air France/KLM's low-cost airline Transavia has recently opened new lines between Paris and Pau.
Airports
Pau to Paris with Transavia
Lourdes/Tarbes to London-Stansted, Dublin and Bruxelles with Ryanair
Biarritz to London-Gatwick, Bristol, Basel and Berlin with Easyjet
San Sebastian, Toulouse and Bordeaux offer many other connections.
Train station
Pau
London/Paris/London by Eurostar
Paris/Pau/Paris by TGV
A night train from Paris to Pau is now in operation.
Taxi Transfers can be arranged by us upon request
Pau Airport transfer 55 euros
Pau Train station transfer 25 euros
Clos Mirabel – Pau transfer 25 euros
Pau – Clos Mirabel transfer 25 euros
Lourdes Airport Transfer 90 euros
Biarritz Airport Transfer 200 euros
Toulouse Airport Transfer 500 euros
NB Prices are approximate and may be subject to change.
Clos Mirabel Atelier
276, avenue des Frères Barthélémy
64110 Jurançon
Pau, Pyrénées-Atlantiques
S.W. France
Geographical coordinates: 43.282667 Lat, -0.412890 Long
Phone: +33 (0)679 590 491
Email: info@clos-mirabel.com
Find us on Google Maps™: Clos Mirabel Atelier